A Quick Introduction to Oracle Exadata X8
Juan Loaiza, Oracle Executive Vice President, gives a quick overview of Exadata X8 capabilities for OLTP, analytics, cloud, and Autonomous Database.
Exadata has been on the market for over 10 years, and today it is an extremely successful product. It runs many of the most mission-critical applications in the world, including petabyte warehouses, critical financial and e-commerce platforms, complex business applications, and massive database consolidations.
Exadata X8 Overview
Enhancements to Exadata X8
In Exadata X8, the tradition of bringing state-of-the-art technology into the Exadata platform continues. Exadata X8 updates database servers with the latest generation Intel Cascade Lake processors that are 15 percent faster than the previous generation. Oracle continues to use its ultra-fast InfiniBand Internal Fabric for communication. Additionally, they bring the latest technologies into the scale-out intelligent storage servers by bringing in the latest Intel Cascade Lake processors with 60 percent more cores the Exadata X7. Exadata X8 also leverages a new generation of drives with 40 percent more storage.
New Exadata Storage Server in Exadata X8
In addition to updating the components in the existing Exadata, there is also a new type of Exadata storage server – the Exadata Storage Server X8-2 Extended (XT). The idea behind it is to drastically lower the cost for infrequently accessed, older, or regulatory data.
Exadata X8-2 and X8-8 Performance Improvements
A combination of new hardware and innovative new software greatly improves performance in this generation of Exadata. In Exadata X8, there is 60 percent more throughput in all-Flash storage than there was in Exadata X7. There is also 25 percent more IOPS pers second per server than Exadata X7. These numbers are dramatically faster than any all-Flash storage array on the market, and they scale as you add more racks.
Exadata Smart Software in Exadata X8
Loaiza explained the Exadata Smart Software is the "secret sauce" of Exadata.
For analytics, Exadata X8 has the ability to offload data-intensive processing into storage. That is what drives the hundreds of gigabytes per second of throughput. Exadata X8 also has technology that greatly reduces the amount of I/O, such as the database-aware Flash Caching and Storage Indexing technology that eliminates I/O that is not relevant to a particular query. In addition, Exadata X8 focuses heavily on bringing columnar technology to greatly accelerate analytics and Exadata. The unique Hybrid Columnar Compression reduces space and speeds analytics by up to an order of magnitude.
In addition to the Hybrid Columnar Compression technology, Exadata X8 introduced a new generation of columnar technology that is focused on performance by using in-memory database columnar formats to bring fast vector processing algorithms directly into Exadata X8.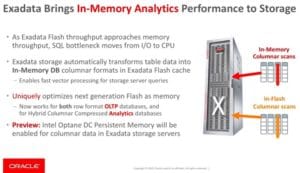 Exadata X8 also introduces Intel Optane DC Persistent Memory into the columnar technology to make that even faster than it is today.
For OLTP, Exadata X8 has many unique algorithms. For example, you are able to eliminate the traditional I/O bottleneck using the scale-out storage, ultra-fast NVMe Flash, and ultra-fast InfiniBand. There are also specialized algorithms for logging that makes transaction processing must faster. In addition, there are specialized algorithms that bypass any sick or broken components. There is also a focus on new algorithms to eliminate the bottleneck in communication within a cluster across the different servers.
Exadata X8 will also introduce the new Persistent Memory technology used for accelerating OLTP. Persistent Memory will use both to do I/O operations must faster and allow the use of RDMA technology to access storage directly – bypassing the entire software stack, which makes the latency of OLTP operations 20x faster than it was before. Persistent Memory will be used as a shared cache to create high capacity and mirror the data across multiple storage servers to ensure that any kind of failure won't lose your database data.
Cloud Deployment Models for Exadata X8
In addition to the hardware and software, there are also unique Cloud deployment models for Exadata. For example, Oracle offers the Exadata Cloud Service where you can provision a brand new Exadata at the click of a button. With this service, Oracle experts deploy and manage all of the infrastructure and you pay based on a subscription-based model for only what you use and only the CPUs that you want to enable at any give time.
Of course, not every customer can move their workload to the public Cloud, so Oracle also offers the ability to bring that same Exadata Cloud technology into your data center using the Exadata Cloud at Customer deployment option. With this option, you are using the exact same hardware, software, interfaces, APIs, and control plane that is used in the public Cloud, but it is run in your data center. Again, you are charged a subscription as if it was running in the public Cloud.
Exadata is also the foundation of the Oracle Autonomous Database – the next-generation technology that will greatly reduce your costs while improving your performance, availability, and security.
Oracle is making the database technology that it implements for Autonomous Database available on all aspects of the Exadata platform. For example, the Automatic Statistics Gathering that Oracle does for Autonomous Database will be available for on-premises Exadata, Exadata Cloud, and Autonomous Database. In addition, the machine learning algorithms that Oracle has implemented to create indexes online based on your running workload will also be available on Exadata on-premises, Exadata Cloud, and Autonomous Database.
To learn more about Exadata X8, check out the video and additional resources below.
Additional Resources
COLLABORATE 20 will take place April 19-23, 2020 at the Mandala Bay Resort and Casino in Las Vegas, NV! Call for Presentations is now open. Don't miss your chance to share your stories, insights, and advice with the Quest Oracle Community! Submit an abstract by October 11, 2019, to be considered to be a speaker at the conference.