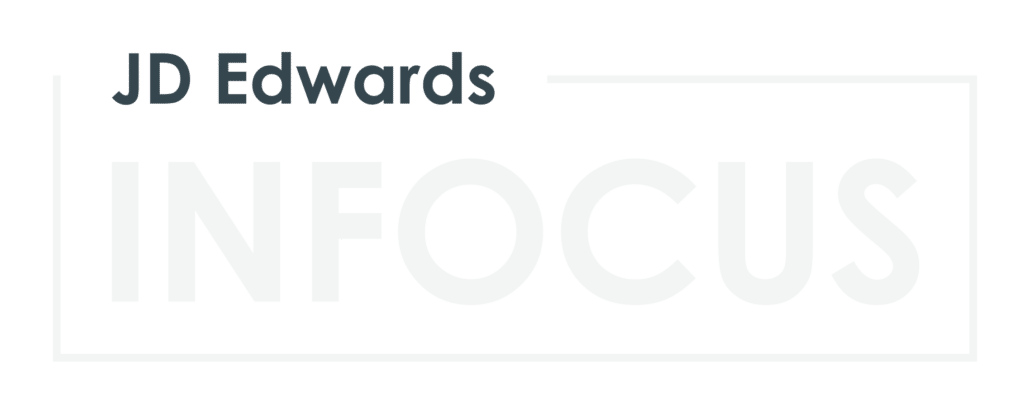 October 19 - October 22, 2020
The deep-dive virtual conference exclusively for JD Edwards users.
INFOCUS 20
Four jam-packed days of JD Edwards Learning
It's all new, all digital this year for INFOCUS 20! Dive deep into JD Edwards learning, chat with the experts, connect with other users and meet the solutions providers. Join us online!
"I am and have always been impressed by the content. The sessions are professional, educational and meaningful.
INFOCUS Attendee
New for 2020
With a new virtual conference platform, this year's event is designed to make digital learning easy with flexible, mix and match programming that fits easily into your schedule. Plus, special all-digital pricing delivers high value for companies tightly managing their budgets.
Join product experts, industry innovators, technology leaders and Oracle product management for 4 jam-packed days of JD Edwards education.
See what's on deck this year:
NEW hosted learning tracks – pick your topic and connect with other users via daily coffee chats, hot topic lounges, shared notebooks, Q&A sessions and chat threads hosted by knowledgeable product experts
NEW flexible session formats – choose from more than 10 mix and match session formats including Quick Tips, TECH Talks, Live Demos, Expert Insights and more to create your custom agenda
NEW networking opportunities – find your people in topic-specific take-away sessions, networking corners, special interest groups, hot topic lounges and more
NEW Discovery Expo – meet expert solution providers, watch a product demo or win great prizes with Quest-opoly
NEW Quest members-only programming – Paid and Corporate members can drop by the Quest Member Lounge to schedule 1:1 meetings with Oracle, sign up for special members-only sessions and get connected to product specialists
INFOCUS 20 — you won't want to miss it! Learn from the experts, follow tracks specific to your interest and choose from 130+ sessions covering buzzworthy topics like Orchestrator, JD Edwards in the Cloud, Continuous Innovation and more!
---
Special new member offer:
Become a Quest Professional or Corporate member and get a FREE individual pass to INFOCUS!
---
Companies in attendance at last year's event:
Quest is your community
We bring people together to share insights and solve problems
Quest helps you:
We connect you to technology leaders and companies driving innovation through Oracle products
We bring IT strategists, product users and developers together with Oracle teams and vendor experts for discussion and learning
We provide access to the Oracle teams that matter – those who develop the technology roadmaps, define product release requirements and develop your products
We help companies make better decisions faster and equip their teams for transformation and modernization
---
NEW: Become a Quest Professional or Corporate member and get a FREE individual pass to INFOCUS!
Contact us
Registration
Presenters
Exhibitors & Sponsors